Chicken, make it your way
Board Bia encourages consumers to look for quality mark chicken as it launches 'Chicken, make it your way' campaign.
Donnacha Ryan & Annalise Murphy partner with Bord Bia to inspire the nation to spread their wings and try something new, with Quality Assured chicken as the key ingredient Chicken is the unsung hero of almost every shopping trolley in Ireland – there are simply no limits to what you can do with chicken to create delicious and nutritious dishes. It's clear Irish people love to eat chicken, with Kantar figures released in September 2018 showing that over 95% of Irish household's purchase chicken regularly, representing an increase of 2% of sales from 2017. However, while Chicken may be a staple in our fridges, we can all be guilty of relying on the same tried and tested recipes. In addition, the pre-and young family demographic represents 35% of the population but these consumers are under-indexing on chicken purchasing, representing 20.2% of total sales. In response to this, Bord Bia has launched its 'Chicken, Make It Your Way' campaign in partnership with industry stakeholders this week, calling on younger consumers to spread their wings and experiment with new recipes and flavours, with the not-so-humble chicken taking centre stage. Low in fat and high in protein, chicken is one of the best ingredients in the culinary canvas to create mouth-watering and nourishing meals, for every day.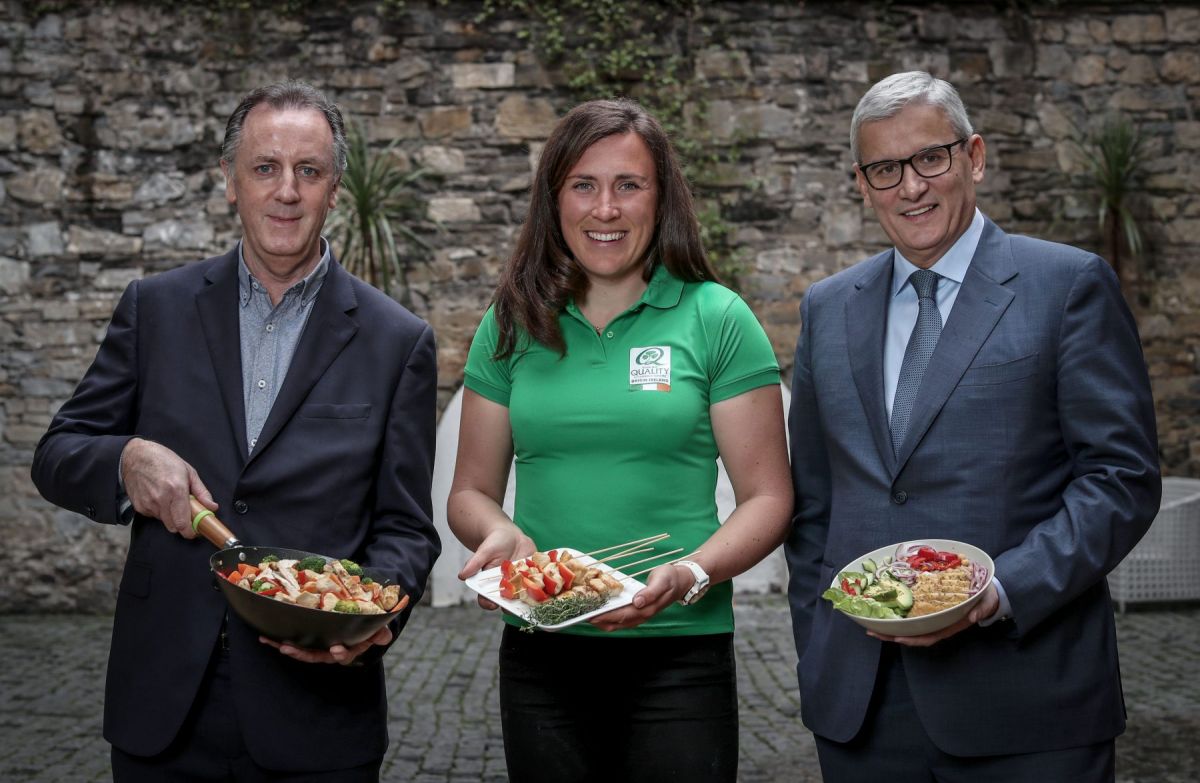 As part of the campaign, Bord Bia has teamed up with Tipperary native and professional rugby player Donnacha Ryan, whose gruelling training schedule with Racing 92 in Paris ensures he is always looking for nutritious and easy-to-prepare meals. "I eat chicken almost every day as it is packed full of protein and other nutrients. It's perfect for before a training session or as a post-workout meal. I'm delighted to partner with Bord Bia for this campaign as I have a number of go-to chicken recipes, but I'm always looking for inspiration to try new flavours and create different dishes," said Ryan.
Irish sailing Olympic silver medallist Annalise Murphy also commented on the campaign, "Having trained at Ballymaloe Cookery School, I have a keen interest in all things food related and am always experimenting with new recipes and flavours, looking for inspiration and trying new things. As chicken is always in my weekly shopping basket, I'm really excited to work with Bord Bia on this chicken campaign
and to try out these delicious new recipes, particularly the Sriracha Chicken Kebabs – DELISH!"
Hylda Adams, Market Specialist at Bord Bia said, "Chicken is ubiquitous, with nearly every Irish household buying it regularly. Chicken fillets and added value chicken products are driving the growth in this category, with the frequency of purchase growing by 1.4% since 2017. The purpose behind the 'Chicken, Make It Your Way' campaign is to encourage everyone, particularly younger shoppers, to get inventive in the kitchen and try something new with Quality Assured Chicken, particularly chicken fillets and whole chicken".
With chicken already being the most searched meat in the recipes section on BordBia.ie, as people actively search for inspiration, Bord Bia has developed a new suite of easy-to-prepare recipes, perfect for those who are ravenous post-workout and equally for gatherings amongst family and friends. Always look for the Bord Bia Quality Mark when purchasing chicken so that you know that it has been produced to the highest Bord Bia Quality standards which have been verified at every stage.
Check out bordbia.ie/qualitychicken for recipe inspiration and #MakeItYourWay
and get cooking with Quality Assured chicken!